The Civic Mayor of Kirklees helped mark a milestone in the build of the new Denby Dale care home currently being built by Conroy Brook on behalf of Meridian Healthcare.
The Denby Dale, a new 47 bed care home in the village of Denby Dale has reached a key milestone in the development with the topping out of the building. [artists impression of the final building]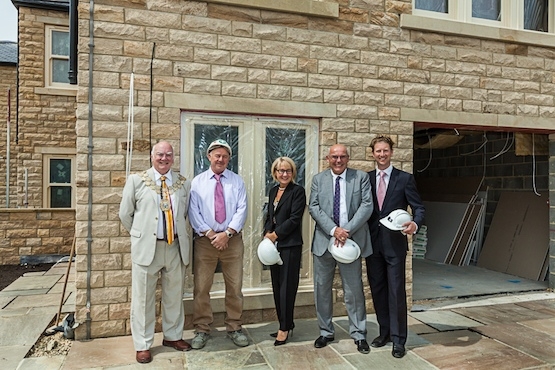 Topping out is a traditional milestone in the construction of a building and usually marks the completion of the roof or other significant stage in the build. Mayor of Kirklees, Cllr Ken Smith joined Alan Firth CEO, Susan Firth MD and Richard Conroy, CEO of Conroy Brook, on site to mark the final stages of the care home build including the completion of the roof and removal of scaffolding. [photograph shows L-R The Civic Mayor of Kirklees Cllr Ken Smith, Graham Barber (Site Manager), Susan Firth, Alan Firth and Richard Conroy]
The Denby Dale home will feature two restaurants, a hairdressing salon and a gym for the convenience of its residents. Situated in the heart of the village, residents can walk to the village shops and can remain very much part of the local community in Denby Dale.
The care home's focus is on individuals who are finding it difficult to cope at home or who require a little extra help with day-to-day activities. The home will have well-appointed suites and junior suites and is expected to open in November 2014.
The Denby Dale is the latest in Meridian Healthcare's 'Premiere' group of homes. The Premiere homes offer services and accommodation akin to an up market hotel whilst retaining a homely and welcoming feel.
Conroy Brook have previously worked on two Yorkshire based homes for Meridian: The Oakes in Huddersfield and White Rose House in Holmfirth.
Richard Conroy commented: "We are delighted to be working in partnership with Meridian on this fantastic and much-needed state-of-the-art care facility. It is great to see the project reach such a significant stage in the build process. Everything is going to plan and we are on schedule to deliver the new Denby Dale Care Centre on budget and ahead of our original programme."
Although the new home opens in November 2014, anyone interested in the home can get in touch with Meridian on: 0161 638 3918 or find out more here.