Decorating is one of the most exciting parts of moving into your new house and is what can make it truly feel like your home. To offer some inspiration, we've collated our favourite interior design trends that we've noticed will be coming through in 2018.
Warm tones
The popularity of grey we've seen across the interior design world seems to have subsided in the past few months and as we move into the new year, the focus is shifting to warmer colours.
Rich browns coupled with muted reds, oranges and pinks have come to the forefront of interior design, with Dulux naming Heart Wood, a warm pink, their colour of the year. While these colours have always seen seasonal popularity in the colder months due to the sense of warmth and comfort they bring to the home, this is now being extended through to Spring and the rest of the year.
Dark wood
Dark wooden features are also expected to grow in popularity in 2018, moving away from the Scandinavian style that we've seen over the past few years.
Perfectly complementing warm colours, materials such as Rosewood and Walnut add to the comforting atmosphere of a home. Dark woods also create a feeling of luxury, and can add striking focal points to a room.
Velvet
Following on the theme of opulence, velvet furniture has made a reappearance recently, and is set to rise in popularity as we enter the New Year.
Velvet catches and reflects light in a way that is unique to other fabrics, and lends itself beautifully to sofa or armchair upholstery. And because of the way in which the fibres are woven, and because they dye very well, colours appear richer and deeper than they would with most other types of fabric.
Statement art
Gone are the days of gallery walls. While collections of art have been prevalent over the past few years, the trend is moving towards a much more curated look.
Choosing one piece of very large art creates a striking and impactful focus piece in any room, and takes away the often cluttered feel of a gallery wall.
Accent colours
If you're not a fan of the deeper tones coming into fashion next year, but still want to incorporate colour into your home, neutral colour schemes with colourful accents don't seem to be going anywhere.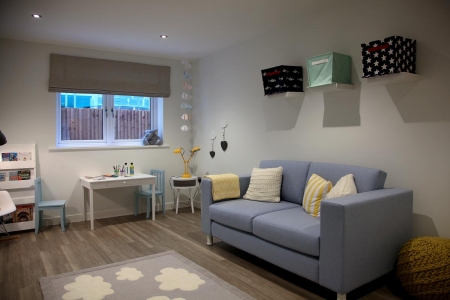 Beige and cream interiors are timeless. But adding splashes of colour through brighter cushions, lampshades or even a colourful backsplash will create a more contemporary and lively atmosphere in your home.
Gold finishes are set to take over copper next year, so using gold in a more neutral room can add a sense of luxury without feeling like you have gone overboard with different colours and finishes.
If you are still looking for the perfect house to transform into your dream home, take a look at the new homes we currently have available across Yorkshire. Or if you have any questions about our homes, please feel free to get in touch.